Hi all! When we were looking at the schedule for this week, at first it seemed that we wouldn't need to plan as many meals as usual! I'm working several evenings this week, plus my birthday is next Sunday, and we plan on eating out to celebrate! But, we did find five holes that will need to be filled with meals, so here we go!
Monday: Grilled Brats &
Creamy Grilled Corn Polenta
(Pinterest & Co-op) Fact: Martin worked at the Johnsonville factory near Kiel, WI. Fact: Martin will fight anyone who says that any other brat other than Johnsonville is the best brat. Fact: Memorial Day is a great time for cook outs. Fact: We will be cooking Johnsonville brats today. ...I'm just trying to fancy us up by also making some polenta! :)
Polenta that has grilled corn in it, yum!
The "King of Brats" Duh.
Tuesday:
Penne Rosa with Shrimp
(Pinterest) I am so excited that I pinned this recipe! I love the chick that writes this blog - she reminds me of ME! Best stumble of the day! Did you know that the founders of Noodles & Co. concocted their plan during an orientation exercise at my alma mater,
Augustana College
? I did! (Augustana rocks, check out our
CEOs!
) Did you know that this recipe was created due to the love of a Noodles & Co. dish? I didn't! But I happen to love that dish too, and I'm pumped to try this version out!
Shrimp & Pasta? Sign me up!


Wednesday:
Bifana & Rhubarb Chutney
(Garden) We still need to make use of our rhubarb, and this sounded strange and exciting to us! The picture I took was from a blogger that made this exact recipe, she commented that the tartness of the rhubarb is almost comparable to a granny smith apple, so it's not surprising that rhubarb goes well with pork! Sounds reasonable to me, and I'm excited to try my hand at my very first chutney!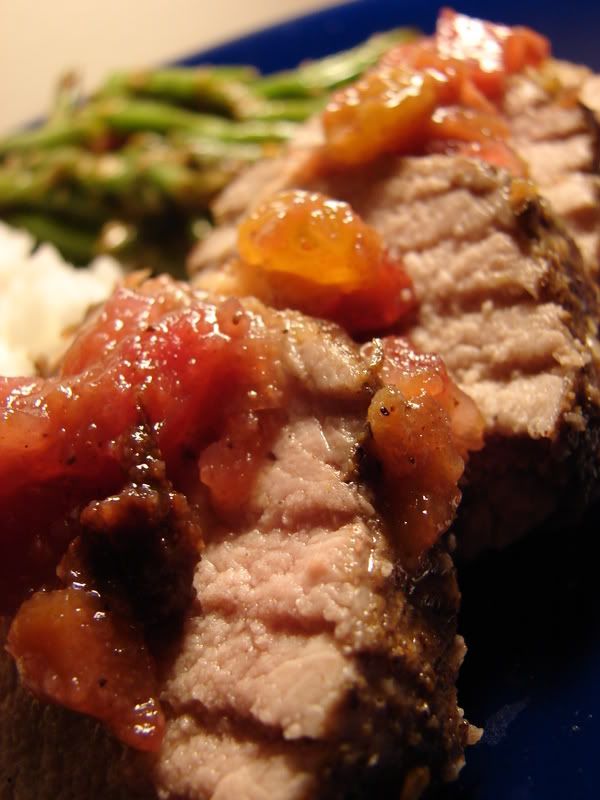 Rhubarb Chutney, I'm coming for you!
Friday: Fancy Pants
Grilled Cheese
& Tomato Soup (Cookbook & Pinterest) My sister Michelle submitted a recipe her boyfriend wooed her with for a pear and arugula grilled cheese to our treasury cookbook, and we are planning on trying that too! Fruity grilled cheeses and tomato soup? Sound like the perfect meal to welcome June!
Not your mama's grilled cheese!
Saturday:
Southwestern Chicken
(Slow Cooker) I have to work all day on Saturday, so it is officially slow cooker Saturday! :) My mother started making this meal a while ago and it is one of my parents faves now. I looked for the same recipe online, and I think I found it a couple of times, the only difference being that most called for the chicken to be shredded and for cheese to be added at the end. Martin and I have become pretty skilled meat shredders; plus we are convinced that more flavor gets into the meat when it is added back to the slow cooker post shredding for some extra cooking, thus we will probably be doing that! Cheap, easy, and tasty. That's what I'm talking about!
Shredded chicken meals never look super pretty, but man they taste good!
So that's our menu for the next week! I said I was going to review the new recipes we tried last week, so get ready for that right... NOW!
Baked Coconut Shrimp
: We whipped this up for our six month anniversary! We both liked the flavor of this dish, and we will try to make it again. You REALLY NEED to use parchment paper when you are baking it, or you WILL LOSE half your coconut coating! Before we make this again, we will certainly invest! We didn't have pineapple preserves, and couldn't see using a whole jar of pineapple preserves in the future, so we used some
Keweenaw Kitchen
Raspberry jam instead. The jalapenos and lime juice combined with the rasberries were just lovely, but it was very sweet! Next time we will really chop the jalapanos super fine and add more!
Hungry Girl Alfredo Bowl
: This was that out there recipe that uses tofu noodle substitute, remember? What a comedy of errors this dinner prep was! I'd just gotten back for the hottest Zumba of my life, both of us were hungry and cranky, we had the oven cranked up for the asparagus recipe we were trying, and we realized after we started that we didn't have the ingredients we needed for this recipe! Nothing like getting into a screaming match over putting the "wrong" substitute cheese in, right?! Oh boy! I can't say that we've had this recipe as directed, but when all was said and done, both of us liked what we were eating! The tofu noodles really don't taste bad at all, and the flavors of bacon, roasted red peppers, and mushrooms were yummy. Our "Alfredo" Sauce was just a flop, and yet it didn't ruin the good tastes. I wouldn't be surprised if we tried this again! If you see Tofu noodles, do try them! They aren't bad AT ALL! (Plus, wayyyy healthier than the traditional wheat version!)
Chicken Chili
: OH MY GOD! MAKE THIS RIGHT NOW! RIGHT NOW! RIGHT NOW! Martin and I hit the jackpot when we tried this sooo simple crock pot recipe! It is delicious! I covered part of a night shift for my coworker the other night, and so didn't mean to sleep past noon, but when you get home at five am, I guess it happens! We wanted to make this for dinner and were short on time, so we used our slow cooker tricks! Instead of cooking this for six to eight hours on low, we cooked it for one hour on high, and three hours on low. After we shredded the chicken, we cooked it on low for another half hour. Like I mentioned, we are a big fan of letting the flavors really get into the shredded meat, so we do that with our slow cooker recipes regardless of instructions! It made our whole house smell amazing, and it was so tasty to boot! I wouldn't be surprised if this finds it way into our rotation sooner rather than later! YUM!
Would you believe me if I told you that I really didn't plan for this to become a food blog? Nah, I wouldn't believe me either. But I really didn't! Maybe one day I'll actually post something that DOESN'T have a "Food" label attached to it! But until then...
Yooper Love!